Our General View on Mass Rollouts
1. Our Understanding of Mass Rollouts
Any project that involves a standardized process that needs to be rolled out over a short space of time over multiple locations is what we term a mass rollout. Karebo started this process for Eskom where we proposed, developed and managed the first mass rollout of CFLs globally and this has now become a trend all over the world.
The items rolled out is not of importance when we talk concepts – it could be a light bulb, computers, towers, smart meters – the list is endless. Provided that the rollout needs to happen in an accelerated process the same principles apply. These principles generally involve the following:
Clear Audit Trail – Often public funds are used for these projects and there is a need to have an audit trail for every item involved – from the warehouse to installation – and sometimes even beyond.
Timelines are often brutal and there needs to be a huge infrastructure put in place for a short space of time. This often involves subcontractors that do not always align with the big picture goals. We have a project management methodology and experienced staff to manage the timelines, the contractors and the project goals.
Risks – due to the short timeframe and high values of the items involved risks will inherently manifest itself and they need to be mitigated. We have developed an online tool that integrates all the data from the various aspects like the field, the warehouse, the call centre to get a real time picture of what happens during these rollouts. This allows for meaningful decisions to be taken at any point in time by the various stakeholders
Big Data – there is data being generated on daily basis from all point of the project. Reports often don't have data points with the same time stamp and sometimes risks are difficult to identify or decisions are made with information that is not correct at that point in time. We have managed to ensure that all the data is available in real time on these projects.
Meaningful Reports – our reports are up to date and very rich in information. We have an audit trail for every point and the reports can be sliced and diced in a very quick time. These reports are very useful for C Level executives that need to manage the various stakeholders involved in a project of this nature
2. ASPECTS COVERED IN A MASS Rollout
This mass rollout typically covers the following areas: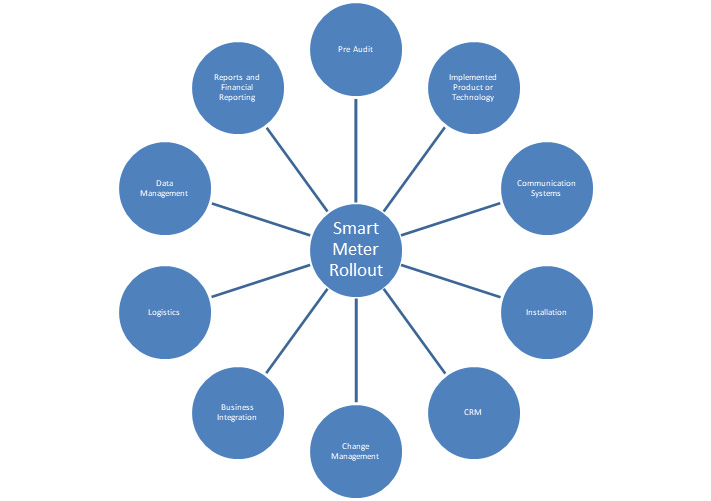 From our extensive experience in mass rollouts we found that the data points are changing on a daily basis and there is a significant need to have as close to real time data as possible and also to have other inherent audit points billed into it like GPS data and time stamped data. It also helps if the same database is updated in real time so that C level executives and project managers get a holistic view of the real time data.
The benefit of all of this information sitting in one place is that it gives the C level executives the information to do the following:
Make informed decisions about any aspect of the project
Identify risk areas
Provide accurate reporting at any point to key stakeholders
3. EXAMPLE OF Pre Audit Services
We understand that part of the project processes is as follows:

Eskom will provide the consortium with an existing database that is understood not to be 100% accurate.
We expect to encounter the following problems with the existing data:
Quality of data : Incorrect stand numbers, meter numbers, account numbers
Locations of the meters (incorrect or no GPS readings)
Uncertainty if the new meters will fit in the existing kiosks or a new meter kiosk is to be installed
Potential historical billing mismatches with meters and homeowners
Therefore to ensure a smoother installation process and it is advisable that the teams do a pre-audit. From the rollouts done to date this has been recommended as the correct process to follow.
We are proposing a mobile applet that will capture information from the field and send this to the online Karebo Information Management System…..
The data form that has been specified by Eskom is shown below: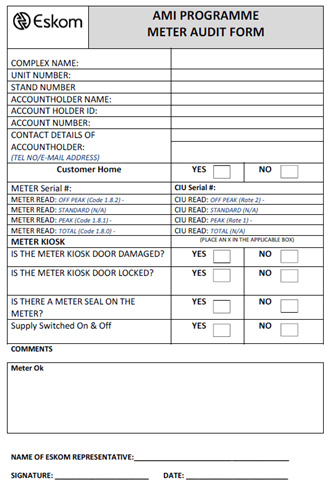 The nature of the information required means that there has to be interaction with the customer.
In addition to the customer interaction and collecting the data specified above we anticipate collecting the info below as well:
Obtain GPS coordinates
Assess existing meter enclosure:
Space
Security
Quality of enclosure
Locking mechanism
Record visible defects (Photos)
Identify possible challenges and additional work outside of standard installation
Obtain a suitable time to gain access to meters located within the customer property
Notify the resident of the project.
Educate the customer verbally and provide printed communication containing information related to:
What the work entails
There being no cost implication
The planned power outage required to conduct the work
Appointment of customer representative at the time of installation
Required access to the meter on the customer property (if not on boundary)
the identification used by the installation staff to overcome security concerns
4. EXAMPLE OF Quality Assurance Process
10% Field Audit
Determine accuracy of installation data
Verify GPS coordinate provided
Installation compliance with SANS10142, NRS 049, NRS 057, IEEE1675
Conduct customer satisfaction survey
5. Our Integrated System
We use a custom developed workflow tool that incorporates all aspects of the rollout in one place.
In this manner we can get real-time reports on the project to ensure that we can make adjustments on a minute by minute basis.
The mass rollout process is an integrated process that incorporates all of the elements below: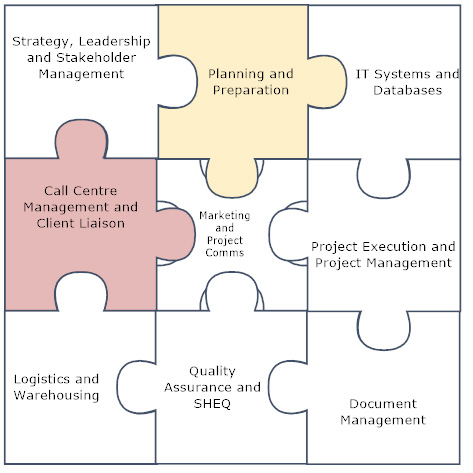 An example of a data process is shown below :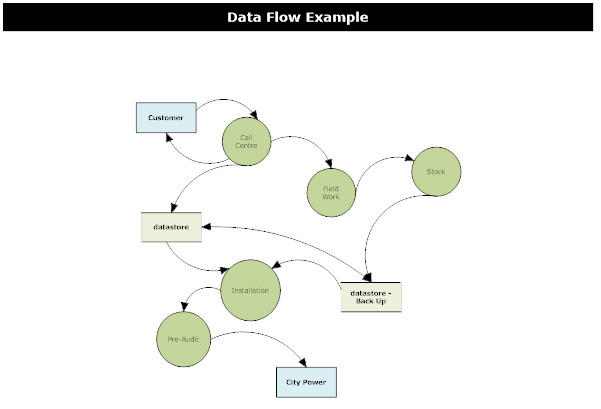 6. Skills Development and Localisation
These projects are normally of a short duration and therefore teams are trained to follow the processes completely. Team members get intense exposure to project management and maintaining timelines without quality slipping.
We normally concentrate on 3 areas in skills development and localization in this process and measure our impact in an objective way.  These are:
Local Content to South Africa – the key component to be measured here is the imported content. The local content value will be the total contract value less the imported value.
Procurement from designated groups if it is a requirement for the contract. In any case we have a good track record of supporting youth development on these projects.
Skills Development – this involves exposure to project management, workflow processes and exposure to the technology being rolled out.
Please contact us and we will share our proven strategy on how we ensure that the above targets are met.
7. Conclusion
The world is moving at a rapid pace and there is a need to be able to perform large scale rollouts in the shortest possible time in a cost effective and efficient way without compromising on quality in any way. We have developed a proven track record and framework to do this.
1 CASE STUDY IN ONE LINE
Our general view on mass rollouts.